Matchroom President, Barry Hearn, connected the Foundation to a charity he has been inspired by and has supported over the last few years – Future Youth Zone. The Foundation are pleased to grant £50,000 to the charity.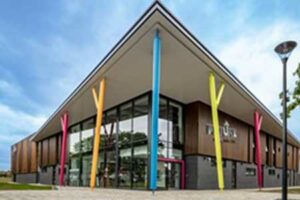 Future is a state of the art Youth Zone, open 7 days a week to young people in Barking & Dagenham. Young people aged 8-19 (and up to 25 with additional needs) can access 20+ activities on offer including cooking, boxing, music recording, a hair and beauty salon, a climbing wall, dance classes, art room, multimedia suite, skate park and a fully equipped gym.
The youth workers at Future Youth Zone engage young people in activities as a platform to have meaningful conversations, support their physical and mental wellbeing and are there for our members as positive role models. Since opening it's doors in 2019, Future Youth Zone has become a social hub for over 7,000 young members, and has become a fun and safe place for young people to spend their leisure time, inspiring young people to live healthier, happier, more aspirational lives.
Their philosophy is one that is shared by the Matchroom Foundation – that to get the best from young people, we must give them the best opportunities, and the Foundation was excited to support a new pilot programme – the Made in Barking and Dagenham Programme – with a £50,000 donation.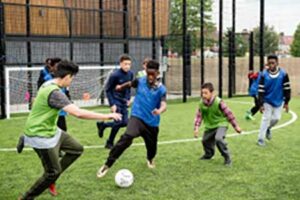 The programme will run throughout 2021 and 2022, as we move out of lockdown, aiming to support young people to give them the tools they need to begin their journey into work or further education at a time when they need support more than ever before.
In order for them to reach this aim, Future are working on developing young people's self-esteem by building on their current skill sets and helping them gain new skills through running a variety of workshops, trips (site visits) & inspirational guest speakers.
James Emmanuel, Head of Fundraising wrote –
"We are so grateful to The Matchroom Foundation for your amazing support.
Your passion for making a difference to the lives of young people is fantastic and we are delighted that you are with us on our journey to radically improve youth provision.
As you know, the community of Barking & Dagenham hugely benefits from the activities and services that Future Youth Zone offers. The pandemic has had a significant impact on the lives of young people. Your dedicated support for the range of activities that we offer will continue to make a big difference to hundreds of young people – we simply wouldn't be able to offer such a well-rounded and high-quality provision if it wasn't for supporters such as yourselves.
Thank you, on behalf of the young people who use our vital services."